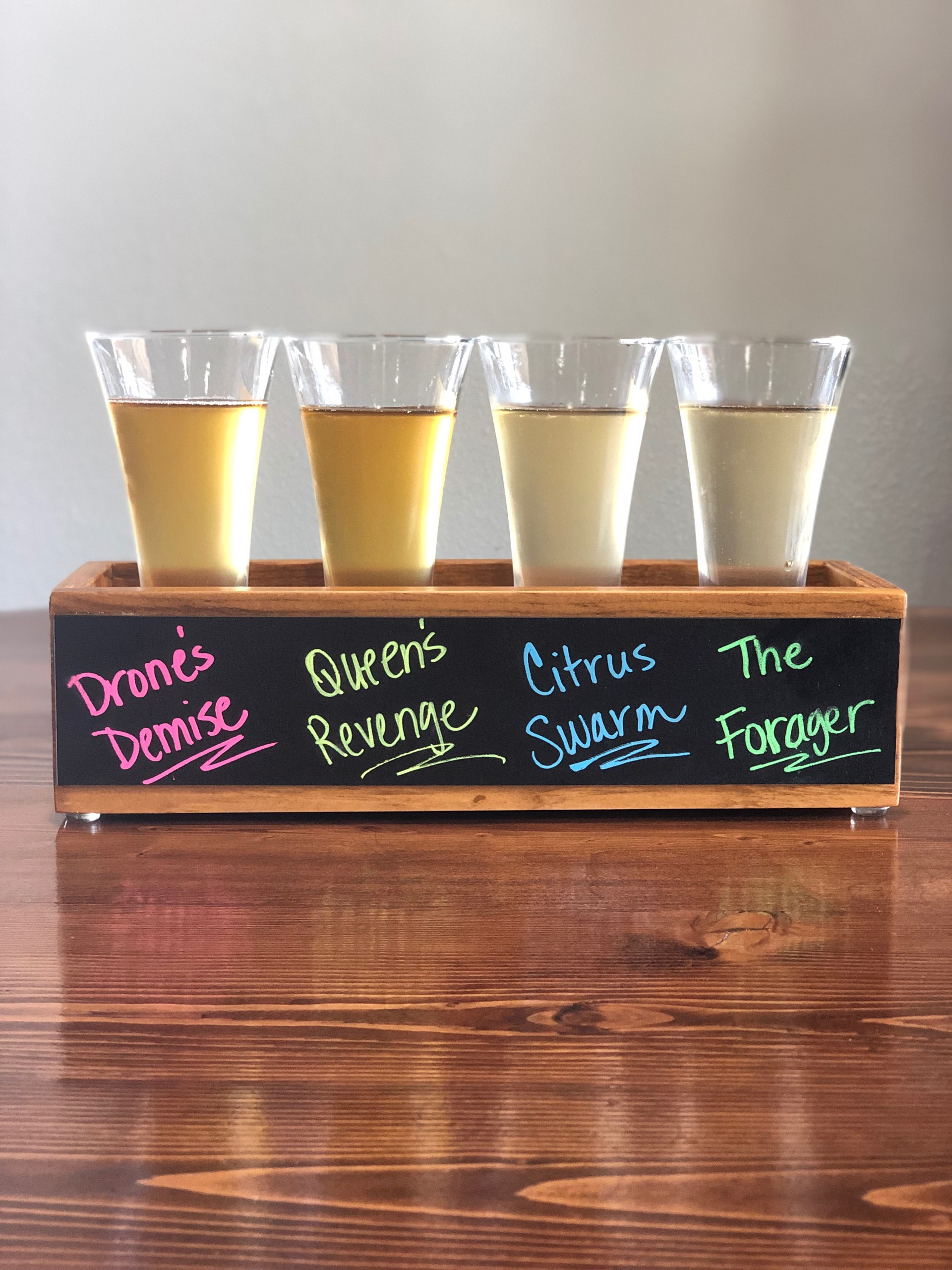 Tropical Bee (Piña Colada): Sweet mead and rum wine combined with pineapple and coconut. "Bee"ach worthy!

Strawberry Daiquiri Slushy: Real pureed strawberries mixed with our in house honey lemonade, rum, honey and our mead!

"Mead" A Rita: Our unique twist on a margarita, but made with mead!
Blueberry: Real blueberries combined with rum wine and honey mead to make the most delicious drink!

Tooty-Fruity: Swirl of Strawberry, Blueberry, and Piná Coloda
Swirl: Swirl any of our two-three slushies to create your own fruity slushy!
To Go:

Small:$8.00, Large: $10.00
Blackberry: Intense fruit flavor with a smooth and subtle sweetness.


Lemon: A crisp and refreshing mead made with lemons.

Honey: A sparkling mead made with orange blossom honey.

Peach: A sweet, crisp sparkling mead with hints of peach and ginger.

Cherry: A refreshing, cherry mead with hints of vanilla and almond.
Queen's Revenge: A sparkling mead made with our in-house clover honey.

Black Raspberry: A crisp, clean mead with light black cherry and raspberry fruitiness!

Black Lavender Currant: A sweet and tasty mead made with black currant and a hint of lavender!
Pear: A mead cider made with delicious pears to refresh your pallet.
Black Currant: A sweet sparkling mead made with black currants to refresh your day!
Rosé: A sparkling mead made with ruby grapefruit!
Herbal Tea: $2.50
English Breakfast
Sweet Apricot
Creme Earl Grey
Blueberry
Cranberry Apple
Madagascar Almond
Last Mango in Paris
Peppermint
Berry Berry
Jasmine & Flowers
Long Island Strawberry
Vanilla Green
Lavender Earl Grey
Pomegranate Hibiscus
Marzipan
Sweet Peach
Blackberry: A melomel mead with a fruit forward blend of blackberries and honey.

Cyser: A crisp and refreshing blend of tart apples and wildflower honey.

Raspberry: A dry mead made with clover honey and red raspberries.

Texas Two Step: Dry Mead.
Pyment-Grape Melomel. A blend of wildflower honey, tallow tree honey, and merlot grapes.

Traditional: A sweet, still mead that is made with wildflower honey.
Mulled Harvest Cyser: Apple cider mead with a hint of spices to perfect your holiday season.
Thorins Knightly:
A hardy and sweet mead made with a clover honey base!
Viking Blod: (19% ABV):
Nordic honey wine with hibiscus and hops.

GI Dansk: (19% ABV):
Ginger and hops Nordic honey wine.

Ribe Mjod: (19% ABV):
Apple and hops Nordic honey wine.

Vikingernes Mjod: (19% ABV):
Honey wine with hops added.

Klapojster Mjod (21.8% ABV): Nordic caraway honey wine.
Odins Skull: (19% ABV) Nordic sour-apple and cinnamon mead.
Dansk:
Glass $6 Bottle $33
Call in TO GO orders to 806-381-3446
Call in TO GO orders to 806-381-3446
Get any of our Meads on Tap in a convenient Growler To Go!!
New 16 oz Growler: $18
New 32 oz Growler: $32
Price To Refill:
16 oz Growler: $12
32 oz Growler: $22
Root Beer
Made with Local Honey
Small: $2.00
Large:$4.00
Lemonade
Cherry or Regular
Made with Local Honey
Small: $2.50
Large:$5.00
Wine
Bottle: Varies Glass: $8
Palo Duro Canyon Cabernet:(13% ABV): A dry, red wine with hints of dark cherry made specially for our very own PDC.
Becker Vineyards Chardonnay:(13.3% ABV)A crisp and refreshing white wine with delicate flavors of lavender and honey.
English Newsom Picardan:
(11.2% ABV)
A Texas made, white wine that is both refreshing and delicious.
Texas South Plains Tempranillo:
(14.5% ABV)
A rich and savory red blend that pairs well with any meal.
We even fill Growlers with our home-made Rootbeer and Lemonades!
Ask the bartender for prices!
We have specials everyday of the Week!
Monday: 1/2 off ALL DRAFT MEAD
Tuesday: 1/2 off ALL SLUSHIES
Wednesday: 1/2 off Cheese Trays
Thursday: Sandwich Meal Deal!
Friday: 1/2 off FLIGHTS
Saturday: 50% off Mimosas!
Sunday: BOGO 1/2 off SLUSHIES
Traditional: A traditional mimosa made with orange juice and brut champagne.
Cherry Lemonade: A twist on our homemade cherry lemonade with a brut champagne!
Grapefruit & Basil: A zesty and delicious mimosa made with grapefruit, homemade basil simple syrup and brut champagne.
Raspberry Sorbet: A sweet and tart treat for raspberry lovers! Brut champagne with a scoop of raspberry sorbet!

Sunset: A twist on our traditional mimosa mixed with strawberry puree.
Tropical: A yummy mimosa made with 100% pineapple juice!
Poinsettia: A traditional poinsettia made with brut champagne and cranberry juice!
G.H. Mumm:
(12% ABV)
A crisp champagne crafted by Mumm in California!
$12 glass, $40 bottle
Mumm Brut:
(12.5% ABV)
Champagne crafted by Mumm winery in Napa, California!
$10 glass, $25 bottle
Opera-Prema Brut:
(11% ABV)
A light and fruity champagne to celebrate any occasion!
$8 glass, $15 bottle